Major 7
The major 7 chord has been nicknamed the "love chord" because of its smooth and relaxed sound. Its simple structure makes it easy to use for pianists of just about any level.
The chord can be found on the 1 and the 4 of any major scale. In fact, one of my favorite progressions is 1maj7 – 4maj7. Sometimes simplicity can be quite captivating! Give it a try and you'll see what I mean.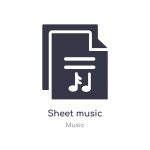 Major 7 Chord Theory
Silent Night (Excerpt)

For more information about Ken Reynolds and Reynolds Piano, visit www.reynoldspiano.com.
Check out some of my recent posts!

How to Effectively Modulate From One Key to Another